GREETINGS
Filled with a sense of responsibility, I hope to contribute to people's healthy lives in medical area.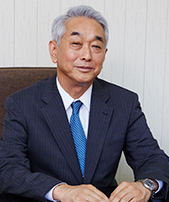 In the outstanding aging society, people's values toward health as well as the environment surrounding healthcare is about to change drastically. In the field of medical care and medication supporting health, the role of pharmaceutical products has been becoming more and more important.
With 'Promoting sound mind and body' as our theme, we TOYO Pharmaceutical Co., Ltd. has met the need of this era, and we have been widening the field of activity by pharmaceutical products production, manufacturing on commission and joint research and development based on our experience of our over 100 year history and cutting edge technology.
We TOYO Pharmaceutical Co., Ltd. which aim to develop more as a company which contributes people's healthy lives will endeavor to advance further research and development and to establish severe production and quality management structures.
We sincerely hope your continuous support.
Representative Director