OINTMENT
Quality and efficiency enhanced by implementing the latest production areas and facilities corresponding high pharmacological activator.
Our formulation area is equipped with a containment area which can handle high pharmacological activator, and the closed system in which process such as kneading, emulsifying, and degassing is done in an identical container prevents cross-contamination and air interfusion, and enables high quality ointment production.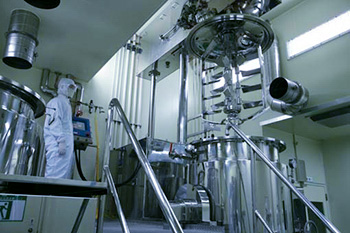 Ointment is mainly divided to oil-based ointment, water-based ointment, cream and gel. These types of ointment can be produced in an identical container from kneading and emulsifying, to degassing by using variable speed change kneading device. In order to transport contents to filling machine, we adopt unmanned extruding system in which a kneading container is used as a big piston, preventing cross-contamination and contamination.
We have a filling equipment for metal tubes and laminated tubes, and can handle various volumes from 5-100g by changing holders or nozzles. We have introduced the latest explosion-proof filler with auto supplier equipped for the best work efficiency and quality improvement. As for solid-mouthed bottles, we can handle filling volume of 100-500g.
Formulation charge 

50kg/lot - 400kg/lot

Tube filling 

5g - 100g

Bottle filling 

100g - 500g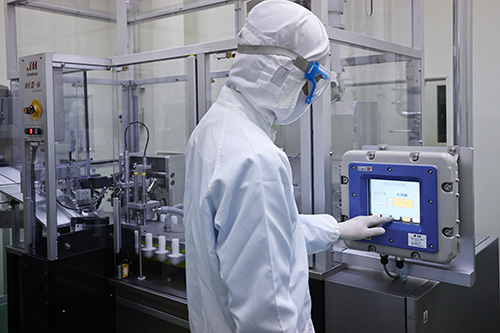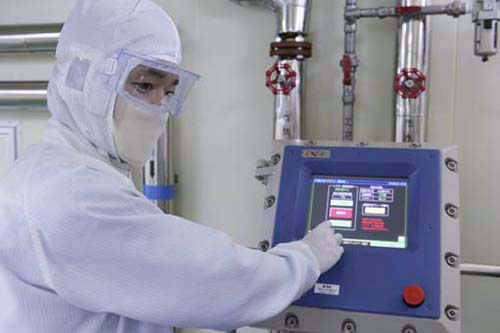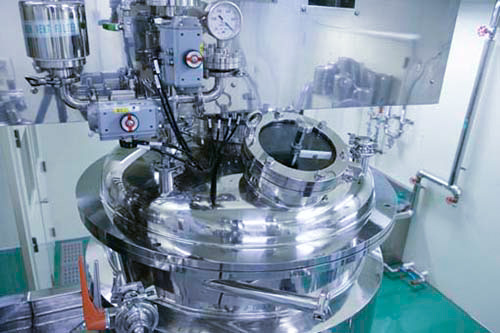 Filling machine is equipped with auto tube direction control and feedback function, which realizes high production efficiency. Speedy and lean production control brings reliable quality.